Risks Of Using Contact Lenses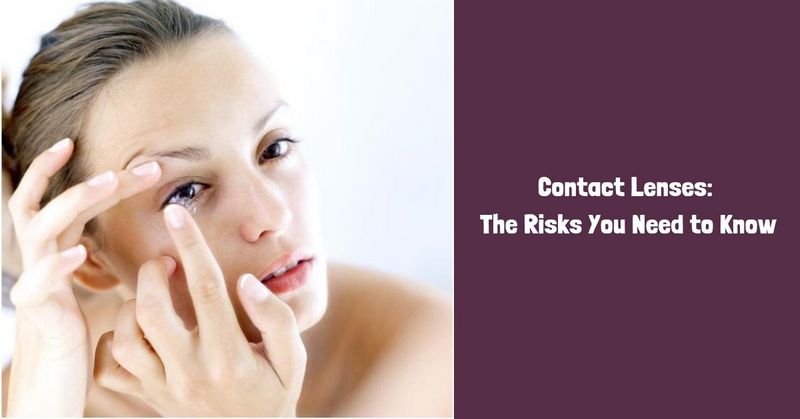 Contact lenses are a great alternative to glasses. They allow you to avoid such well-known problems such as reducing the field of view, optical distortion and fogging of glasses, the rejection of certain sports, the pressure on the nose and ears, problems of appearance and inconvenience when kissing.
Recently, however, ophthalmologists noticed the negative effects associated with improper use of contact lenses. This is especially true for beginners who choose them without consulting a doctor. Read this article released by Safety Rx to find out how to avoid unnecessary hazards to the eyes.
Disadvantages of contact lenses
Contacts are a foreign object on the cornea. Even the most advanced lenses do not guarantee protection against complications associated with irritation, allergic or infectious inflammation of the cornea of ​​the eye;
They violate gas exchange in the cornea of ​​the eye – which, again, can lead to inflammation;
They can cause injury to the eye. This is especially true of improperly chosen contact lenses and cases of improper handling;
The procedure for replacing contacts is rather complicated. It can be overwhelming not only for children or the elderly but also for some adults;
Contacts are quite expensive. Sometimes, quality lenses cost much more than eyeglass correction;
Also, improperly chosen contact lenses can cause permanent eye fatigue and contribute to the progression of eye diseases such as myopia, astigmatism, and hyperopia, etc.
Possible contact lens complications
Most often, complications of contact lenses are associated with non-compliance with the rules of care. They also occur during their continuous and long-term wearing.
The use of contact lenses for vision correction can lead to:
"red eye" syndrome (conjunctivitis, etc.) is a frequent complication, which in most cases is associated with wearing lenses of low-permeability, dirty or unsuitable in size (improperly chosen lenses).
corneal erosion. This condition can be caused by a torn, dirty lens, a foreign body that has fallen under the lens, or accidental injury to the cornea when removing or putting on the lens.
neoplasm of corneal vessels. It usually occurs with the long-term wearing of low-permeability lenses, with night wearing of lenses, or when the life of the lenses is exceeded. The cause is a condition of prolonged corneal hypoxia.
corneal edema. It can develop acutely – with the use of toxic solutions, or chronically – with the prolonged wearing of lenses at night (due to corneal hypoxia). Acute corneal edema is characterized by inconvenience when wearing lenses, periodic or constant blurring of vision, image blurring.
follicular conjunctivitis. It occurs with the prolonged wearing of dirty lenses, as a violation of the immune response to the degradation products of proteins that accumulate under the contact lens.
dry eye syndrome, which is caused by prolonged wearing of improperly selected lenses or individual intolerance. It leads to severe intolerance to contact lenses, redness of the eyes, a feeling of sand, eye contamination, and fog.
Top 3 safety tips for contact lens wearers
If you wear contact lenses, you need to remember 3 rules:
Be sure to wash your hands when putting on and removing lenses. Even if you need to fix something, wash your hands well. If it is not possible to make manipulations with clean hands – do not touch anything, or wear glasses;
When dry eye symptom appears, immediately stop wearing the lenses for a week or two until the signs of corneal edema have passed;
Wear high-quality contacts, made individually for you after a comprehensive survey. Do not buy ready-made lenses in optics.
If you have an intolerance to contact lenses, choose alternatives: glasses or laser vision correction.
Category: Eye Health